Stay Compliant with Expert Hydrant and Hose Reel Installations
When it comes to your building's hydrant and hose reel installations, there is no room for any error. Aside from ensuring compliance with industry legislation, you want the peace of mind that comes from knowing your hydrants and hoses are installed correctly and ready for use should the need arise.
The last thing you want is to wonder whether your installations conform to industry standards. SecureFire's technicians work closely with your building's architects and managers to ensure minimum fuss along with seamless installations.
It's just one more reason why we're your first choice for expert hydrant and hose reel systems.
Choose SecureFire for Professional  Installations
With more than three decades of expertise in fire prevention, our team works hard to drive innovation and set the standard for excellence in our industry. Let us help you secure your building against the devastation that only fire can bring.
Here are only a few of the many reasons why it pays to let us take care of all your hydrant and hose reel installation needs:
We use a hydraulic calculated system; and
Installations are done in compliance with specifications to NFPA, FM Global and SANS 0287 or 10400
When it comes to installing hydrants and hose reels, we realise that each building is unique, and therefore has unique requirements. It's because of this that we approach each job independently. We've never subscribed to a one size fits all approach, and certainly won't start now.
Tailored Hydrant and Hose Reel Installations
Our technicians are ready to provide you with a tailored approach to your installation needs. By taking this approach, we ensure that your company and team's needs are met. To learn more about our expert hydrant and hose reel installations, simply contact our team today.
We are ready to answer your questions and to help you take your building's preparedness for managing a fire breakout to the next level. To learn more about our fire prevention and suppression technologies, contact us today. We look forward to working with you.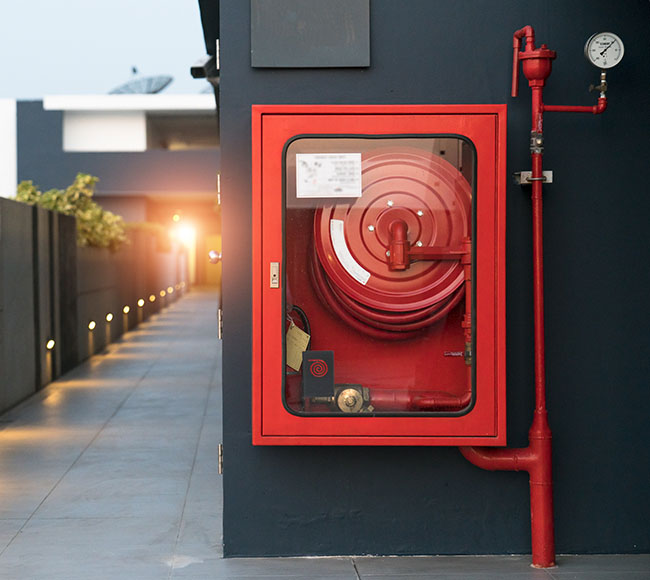 Fires That Are Small, Soon Will Be Tall